The Caregiver Helpbook
Class Participants are given The Caregiver Helpbook, which follows the curriculum and gives caregivers tools to help:
• Reduce stress
• Improve self-confidence
• Manage time, set goals, and solve problems
• Better communicate their feelings
• Make tough decisions
• Locate helpful resources
The second half of the book addresses issues such as hiring in-home help, choosing a care facility, caregivers of veterans, and caregivers of children with special needs. The Caregiver Helpbook is an excellent resource and is available to the public. The book is available in English and Spanish. The third edition includes new information for in-home caregivers, working caregivers, long-distance caregivers, and grandparent caregivers. Other chapters provide resources for driving issues, sensory changes, caregivers of veterans and end-of-life issues.
Note to Class Leaders: Purchasing an individual book for each Class Participant is required (either a digital PDF or paperback book).
Books are ordered and distributed through the Iowa State University Extension Store. To order The Caregiver Helpbook, choose from the options below to open the Extension Store website and add items to your cart. At checkout, you will have the option to pay by credit card or request an invoice to pay by check. If paying by check, orders will shipped when payment is received. Contact the Store.
Shipping and handling charges will be applied to your order at checkout. Please allow 7-10 business days for delivery within the United States. Contact the Extension Store with questions about shipping.
There are no returns on book orders. If you have surplus books, you can contact other caregiver organizations in your area and arrange a donation.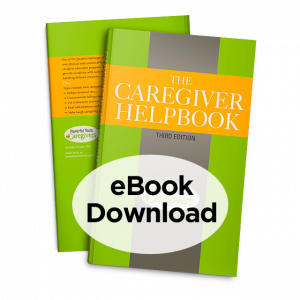 Ordering a digital copy of The Caregiver Helpbook:
Order your digital book at the Extension Store. Complete the check out information with billing details and click on 'place my order.'
You will receive a confirmation email that indicates your order is complete. This confirmation email includes a password to open the pdf file.
You will see a 'download' link. Click to download the book.
When you click on 'save' a screen will open up asking for the password you were sent.
Enter the password. The digital pdf will be available for you to save in your documents.
You will not be able to print any part of the e-book version of the Caregiver Helpbook. You will only be able to read the book on your device. Please order a print copy of The Caregiver Helpbook if you would prefer a printed version.
Are you a Class Leader ordering multiple copies of The Caregiver Helpbook eBook? Place one order and pay for the total number of books and email the individual caregivers yourself the confirmation message containing the download link and password. Purchase one eBook for each individual who receives a copy.